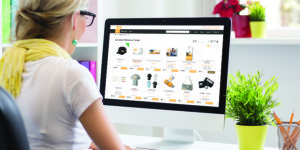 Today most Print Producers use web-to-print solutions (private marketing portals) as a value-added service offering to compete for new business. Despite this, some printers don't have a demonstration storefront set up correctly or one set up at all. "Can I control how much users spend a month?" "Yes, this site isn't configured to do that, but I know that the system handles that".
A well configured demonstration storefront is the most essential element in a sales demo. Let's get right to it. Here are the 4 musts for a web-to-print sales demo that rocks.
1. Set Up a Demo Storefront the Right Way.
Create a fictitious company
The number one reason you want to create a fictitious company is so that you don't have to show a client's storefront and its products. Some clients' marketing materials may contain sensitive client information.
Every prospect is different. They handle different marketing products, business rules and user roles. You want to make sure your demo site appeals to a wide variety of client types. Here is how you can do that.
Upload all kinds of products to your web-to-print demo site (print, promo, apparel, kits, bundles, direct mail, digital) assuming the solution you offer handles those products types. This way, if your prospect is looking to distribute print and non-print products; you can show them how you can handle it.
Activate all settings to show the system's full potential. These are spending limits, discounts, approval thresholds, branding controls, inventory controls, viewing rights, store dollars, pre-populating assets, ability to upload mailing lists, localization, and so on.
Set up multiple users with different user rights. Your clients might want to provide sales, marketers and branch managers with access to different product categories. They may want to give some of them elevated rights or perhaps more store dollars. Make sure you can demonstrate that they can provide a unique experience to different users.
Go crazy with customization. Set up custom html pages as landing pages. Show diverse ways they can display products. Demonstrate how they can personalize the store and white label it. Place promotional banners or custom messages on different pages to show they can personalize the experience and promote new products or upcoming tradeshow materials.
2. Leverage Differentiators.
Highlight unique capabilities. Differentiate yourself from other printers with similar offerings.
Differentiators can be found in functionality and user experience. Does the system prepopulate all materials so users don't have to key their information in? Does it remember favorite products and system preferences? Does it save proofs from old orders so users can skip proofing and easily reorder?
What about the user experience? Most printers miss this one. User experience is just as important as the feature set your solution provides. If your web-to-print solution provides a modern experience- you've already won half of the battle. Most web-to-print solutions in the market still look very dated.
Is your solution responsive? Is it intuitive? Does it offer a common online shopping experience? If yes, be loud about it. Clients value user experience as much as functionality.
3. Be a Web-to-Print Solution Expert.
Be ready to answer technical questions. Some prospects, especially big enterprises, are tech-savvy. On the second or third demo, they will bring super-smart tech guys to address topics such as SAML and other single sign-on integrations, CXML punch-outs and procurement communication, APIs, payment gateways, security, reporting… you get the idea. You better bring your "A" game for these type of prospects.
A clever idea is to bring a subject matter expert on demos, especially for the first ones. Subject matter experts can be your CTO, a Senior Developer, or even your web-to-print solution provider.
Careful with the "YES" reps. Sales reps in general tend to say "YES" a lot to move deals forward. They confirm capabilities your solution does not provide. The last thing you want is to mislead clients. It's hard to come back from that. You will forever be stamped as untrustworthy. It is better to say: "I'll have to get back to you on that one" than to make answers up. Prospects will know you just lied to them. They will take their business somewhere else.
4. Do a Quick Search on the Prospect Before the Demo.
Big prospect? Be prepared. Plan your demo. Ask questions at the beginning of the call. Start with a conversation to focus on what really matters. Avoid areas of little interest, you probably only have an hour which isn't always a lot of time.
Stay away from pursuing prospects that are not a good fit. It will end up setting you back and it will create a bad reputational effect. Instead refer them to a competitor that offers what they really need. If direct mail is their main interest and your solution offers light direct mail capabilities- don't go there.
Spend time on your demo site. Use a combination of all settings to highlight its full potential. Upload pretty product images. Spend time on descriptions… detail matters. Ask questions. Plan your demo. Become an expert. Good luck out there!