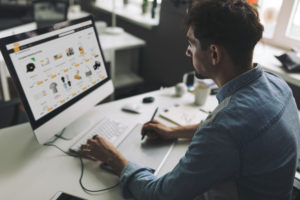 Today most printers offer web to print capabilities for their clients. Whether it is a public e-commerce storefront or a dedicated marketing portal for enterprise clients, web to print is the best way to simplify how your clients do business with you.
Technology has given your clients the ability to demand less effort. They want you to simplify their job. They expect some form of self-service. Your web to print solution must be intelligent. Remember users' information, behavior, and preferences. Automate workflows. It must be pretty and intuitive. A familiar online shopping experience like Amazon.com or any other major e-commerce site. No exceptions. The point is, printers that fail to leverage web to print solutions are at a huge disadvantage to those printers that do.
I think I want to highlight this again. Your web to print solution better kick ass. It can't be sluggish, buggy or ugly. Your clients will not hesitate to go with another printer that offers a better customer experience. This can mean losing a huge enterprise account or few hundred online orders a day.
So what? Why should printers care?
Growth in print-on-demand services, on-demand marketing, shifting of ad budgets from mass to personalized messaging, consolidation of disconnected systems into one unified solution are establishing web to print solutions as a core competency.
Printers with the right resources and expertise continue to leverage web to print technology to offer their clients a complete solution for all their branded materials. While printing continues to be the cornerstone of any printer's business, they're realizing extra revenue from promotional products, apparel, corporate gifts and fulfillment services that have a tremendous impact on the bottom line.
Web to print automates business operations. Web to print solutions minimize human touch points and costs associated with them. It automates and integrates with procurement, MIS, warehouse, and other systems. Web to print speeds up production. Simplifies workflows. Eliminates error. Improves overall in plant productivity and efficiency.
The software you offer reflects directly on you!
Important enough to mention it twice. The software you offer reflects directly on you. Web to print is no exception. Does it simplify workflows? Is it intuitive? Is it pretty? Can end users switch between desktop and mobile devices? Do you receive support tickets all the time? Make it virtually easy for end users to order and reorder anything from you 24/7. Simplification translates into higher order volume.
It's about the end user
Second most important point. It's all about fit. It comes down to the end users' needs. This is your biggest and only interest. Everything else is an aspiration to meet your interest– the needs of the end user. These can be organizational members' ability to order and personalize branded marketing materials or anyone online looking to order customized business cards and t-shirts from you.
Web to print is a great sales tool
Build a demo site and make it pretty and generic. It must demonstrate how order approvals, budgeting, branding, and inventory controls work. Set all kinds of products and users with differing settings so when prospects ask if you can do something not only will you say "YES," you can show them right there.
Web to print is easier to implement more than ever
Cloud technology has made everything much easier. Most web to print solutions are now cloud-based. Meaning you don't have to install, update or maintain anything in-house. Virtually there is no need from your IT team. You also pay-as-you-go. No contracts. Get one client up and running and scale from there.
Some platforms are more intuitive than others. Setting everything up can take days, weeks or months depending on your software provider's support and how intuitive the platform is. Pick wisely. I'd allocate a perfect split between functionality and user experience when evaluating a web to print solution. Both matter equally.
Sure, it isn't an easy transition. It takes time, planning, preparation, and the right resources to do it right. But once implemented it pays off in big ways. The cost of same is greater than the cost of change. That said, don't rush it. You need to execute this right the first time. For most small printers, there isn't a second time. Medium and large printers will weep for months.