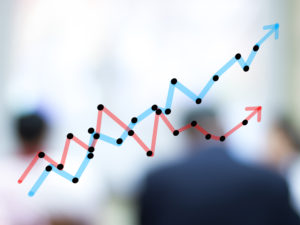 I just watched the "2017 state of the industry by Andy Paparozzi", and I had to put it down on paper. The link to Andy's presentation can be found below.
What did we learn from Andy's Paparozzi state of the industry presentation?  The print industry is expected to take an upturn. However, "NO ONE is guaranteed to rise with the tide."
The big question is, what do printers need to do to participate in the upturn?
What indicates we are heading for an upturn? The US economy is "expected" to grow in 2017, shooting a demand shock taking the print industry for accelerated growth.
First, let's understand the economic factors that influence the industry's performance. Before the last recession (2007Q4-2009Q2), the economy grew by an average of 3.4% year-over-year. The economy grew 2.2% in 2016. A good benchmark economists like to carry in their heads is 3%. After the last recession (2009Q2-2016), the economy grew at an annualized rate of real GDP 2.1% and never by over 2.6% in any year, so not quite as good as the targeted 3%.
Source here "Real Gross Domestic Product." Real Gross Domestic Product | FRED | St. Louis Fed. Source: U.S. Bureau of Economic Analysis, 27 Jan. 2017. Web. 30 Jan. 2017.
So, what? Andy explains how 2.1% growth year-over-year, rather than 3.4% per year over six years, translates into approximately $1.1 trillion of final goods and services that DON'T get produced and get promoted. Yeah! That's how much momentum leaves the economy affecting our industry directly.
Let's look at some of the industry numbers Andy covered in his presentation. The commercial print industry grew by an average of 1.4% per year for the last 5 consecutive years (not over 2.4% in a year). This is down 16.1% from the pre-great recession average growth. This means the industry is recovering slowly after the last economic depression, and other factors such the digital revolution also must be accounted for.
Last few numbers that matter. Total sales in the commercial printing industry in 2016 exceed $82 Billiondollars -the highest since 2011 ($77 Billion). The print industry started to recover from the great depression 2 years after the recession ended in 2009Q2.
Total sales in 2016 ($82 Billion) is low compared to sales in 2007 ($98.3 Billion) before we entered an economic recession later that year. You must know the total number in sales in 2016 includes all the products and services offered in the industry today- this includes print, fulfillment, direct mail, variable data, vehicle raps, POP, wide format, creative design, on-to-one marketing, on demand marketing solutions, content creation, video, and so on. Lots of this product were not part of our industry long ago.
In 2012, lithographic services accounted for 61% of total revenue. In 2016, lithographic services only accounted for 42.3%, and everything else accounted for 57.7%. What does that tell you? To survive, printers must find new opportunities versus trying to manage the decline in print demand.
Aright that was a lot to drink in, but these numbers matter. Some industries curb the same way the economy does; some are less sensitive and some are recession proof. The print industry is sensitive to business cycle swings. When the economy does good, the industry does too; when the economy slows down, we do too.
Andy's forecast is that the economy and the industry will take an upturn, so who will rise with the tide and who isn't?
The upturn magnitude really depends on the policies that President Trump implements. But with the much talked about economic stimulus program he campaigned for, we are likely headed for an economic upturn. Tax breaks, infrastructure investment, regulation easing, bringing corporate profits back from overseas, increasing government spending, capital investment, and hiring are all policies that stimulate economic growth. Andy forecasts industry sales will grow by 1.5% to 3.5% in 2017. He thinks we'll be closer to the higher end.
What about a 2-3 year plan? "What holds for 2018 and 2019 is uncertain," says Andy Paparozzi. Who knows where we will be then? What we know is the next 18 months look good, and you better plan and make the best of it. All right, we are done with economics.
"Not everyone rises with the tide" is the phrase that has all of us intrigued.
So how do you rise with the tide? How do you prepare?
"No matter how big and established you are, no one is guaranteed participation in the upturn" Andy highlights over and over again. Today, upturns are exclusive -reserved for companies that understand their customers and deliver clear value.
Andy tells us "Superior knowledge is key to embrace the economic upturn." You must ask the right questions. You must know what your clients value most. You need to get familiar with their communications program and understand how you fit in. You must provide clear value. You need to minimize customer effort to maximize customer retention.
Understand we are in a fast-paced era. Technology is moving everything fast. What works today might not work tomorrow. You need to be agile. Understand opportunities in your market. Learn to pass on opportunities, regardless of how much buzz there is behind them. If it is not a fit, you will fail.
Remove internal barriers. Create a list of weak signals. How is the digital and information revolutions going to affect your business?
Ask your customers how you are doing and track your performance. Improve it.
Don't rush into hot opportunities so fast. Ask yourself. What is my customer net need and desire? Is it easy for the customer to use? What are the costs? What does the competition in the market look like? What are the skills required to take on this opportunity? Do we have to hire people? Do we know how to hire these people? Think about the challenges. It might not be an opportunity. It might destroy you. Understand the market before you follow everyone else into it. Focus on what is closest to your expertise and leave the rest for later.
"Everyone else gets left behind."
2017 State of the Industry with Andy Paparozzi. Perf. Andy Paparozzi. 2017 State of the Industry with Andy Paparozzi. EFI Connect, 26 Jan. 2017. Web. 30 Jan. 2017.