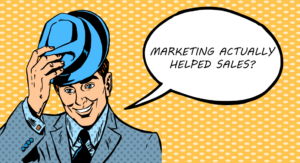 Marketing is a busy, reactive department in charge of so much that if we mentioned all of its responsibilities this article would become a book. That said, marketers don't have the time to babysit sales reps to make sure they are using the latest versions of marketing materials or to chase orders from a print partner or promo supplier to ensure marketing products are delivered on time.
This is part one of a multi-part series discussing what marketing and sales can do to stay synced and run a sales enablement program that drives more revenue.
Intro: How to build the ultimate sales enablement program.
Part 1: Bridging the gap. 5 tips for marketing to better enable sales.
Part 2: Let sales sell. 5 observations to get your sales force selling more and marketing less
Part 3: Pour the foundation. 8 tricks to streamline your entire marketing supply chain
In an Aberdeen Group study, 26% of businesses that participated said their sales reps were unprepared for the initial meeting.
In a world without marketing support, sales reps must allocate time looking for information and creating marketing and sales materials on their own (probably using MS Word or even better Paint). This causes them to spend less time selling.
Sales needs marketing to have a streamlined supply chain so they can drive more revenue. Bridging gaps between marketing and sales increases productivity on both ends, marketing gets to market more and sales gets to sell more.
The following 5 marketing guidelines will help marketing better support sales and get back to marketing.
1.Put Your Marketing Assets to Work, Not in The Dark.
Marketing spends hours planning, writing and designing marketing materials for sales. Many times marketing assets go unnoticed and unused because they can't be found or it simply too hard for the sales team to gain access to them. Hierarchy, red-tape, spreadsheets to fill, multiple emails, 3 web sites, and live phone calls to get a flyer? ugh!
During a small survey, we found that 80% of marketers don't have a centralized solution to manage and distribute marketing assets.
Marketing needs a central repository to simplify management and to facilitate how sales (or anyone else they choose) can locate, download or order the marketing assets they need.
2.Allow Sales to Get Personal with Prospects And Clients.
Marketing assets carrying personal messages are always more engaging. If marketing is having to constantly personalize marketing assets for sale reps, manually, every time, it can take hours if not days of precious time.
Marketing needs a systematic approach to provide sales with pre-approved artwork and templates that allow personalization but still control the brand identity.
3.Make Sure Everyone Is Using Updated and Compliant Marketing Materials (i.e. the latest version)
Legal disclaimers, dates, locations, and pricing, change constantly. It is hard enough for marketing to keep everything up to date, ensuring the sales force is using the latest versions needs to be automatic. 
Marketing needs to be able to update creative easily and instantly in a single centralized repository so that everyone involved in the organization is using content that is compliant with legal and organizational rules.
4.Protect Your #1 Asset. Your Brand.
With great power comes great responsibility. Empowering sales with access to the entire marketing repository, and giving them the freedom to modify artwork can make any marketer nervous.
Your most valuable asset is your brand, making branding the #1 responsibility for marketing.  Marketing communication materials go many places and can be touched by hundreds or thousands of people.
Giving sales reps absolute freedom to create or personalize assets without any sort of supervision is the fastest way to destroy your brand.
Marketing needs a systematic approach to control branding regardless of who has access to your marketing assets.
5.Spend Less Time Managing, Locating and Converting Digital Files to The Right Formats.
Native files, stock images, logos, pictures and videos are the primary files marketers use to create promotional and sales materials, websites and so on. These same files are frequently requested from sales reps and every other employee. The issue is often times they need small size changes or different file formats.
Marketing needs a digital asset management solution where anyone with access can easily locate, convert, resize and instantly download without having to send emails and wait days to receive.
Sure marketing is responsible with supplying sales the marketing materials they need, but that's only ONE of their many responsibilities. They are in charge of analyzing data, search engine optimization (SEO), writing content, being social, designing ads, websites and building the next marketing campaign.
Automating and simplifying sales enablement tasks such as asset management, personalization, brand compliance and order tracking not only will help you optimize your sales enablement program, but will allow your marketing team to focus back on marketing and not the supply chain.
The next article of this series, will discuss how sales needs to spend more time engaging clients and less time locating, personalizing and ordering the marketing products they need. Stay tuned.